Fishing Trips
Bob and the crew of Gemini have been taking fishing trips for
the best part of 30 years.
Fishing Trip Types include:
Reef Fishing Trips

Species Fishing

Occasional Wreck Fishing

Tope trips (in season)
The Species that you can expect to catch include;
Mackerel

Callig / Pollack

Wrasse

Herring

Ling

Cod

Tope

Conger Eel
All ages and skill levels are more than welcome as training and assistance
will be given by the Skipper and Crew
There is a toilet on board and tea and biscuits will provided free of charge
Both Daytime and Evening trips are available
Prices start from (per person);
2hrs - £30
3hrs - £40
4hrs - £45
Tackle Etc. included
If you would like to join Bob and the crew on a fishing trip then please get in
touch. Their contact details are on the Contact Us page and facebook.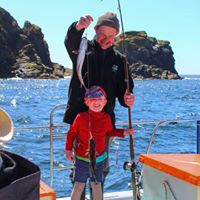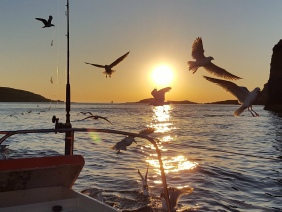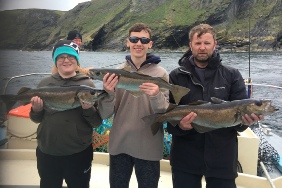 Off out on another Fishing Trip
A nice haul of Calig/Pollack